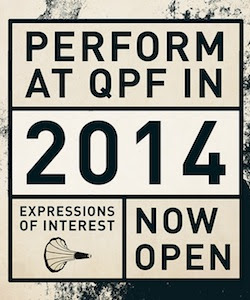 Next year Queensland Poetry Festival celebrates 18 years with the three-day festival spoken in one strange word. Lighting up the Judith Wright Centre of Contemporary Arts from Friday 29 – Sunday 31 August 2014, QPF promises to be a weekend of poetic spectacular.

And we want to hear from you! The QPF Program Committee seeks proposals from poets and artists from across Australia and around the world interested in being part of the 2014 festival. We are delighted to announce that we are currently inviting from poets, spoken word artists, and performers to submit an 'expression of interest'.
We are looking for submissions that embrace the wide possibilities of poetic expression – page poetry, readings, slam, spoken word, performance, music, ekphrastic poetry, collaborations, installations, cross-platform creations, and more. While all projects must have a relationship to poetic language, we encourage submissions from poets and artists wishing to explore the bounds of poetic performance and expression.

Submissions close Thursday 27 February 2014.

For submission guidelines and forms, visit the QPF website.