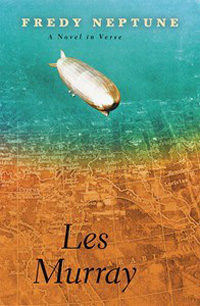 The Doctor of Letters, Honoris Causa awarded by the University of Notre Dame to Australia's pre-eminent poet, Les Murray at the University's Broadway campus Tuesday night is the ninth honorary doctorate the 77-year-old has received.
"To receive an award like this is a great compliment," the down- to-earth bush-born poet says, but adds that while he appreciates each of the doctorates he has received, there's "no need to make a big media event out of it."
Not only was the University of Notre Dame's Doctor of Letters presented to Les Murray by the UNDA Vice Chancellor, Professor Celia Hammond, the ninth honorary doctorate bestowed on him during his 40-year-long literary career, but is the second awarded this year, and the first he has been able to accept in person.
"I was sick and couldn't go to the graduation ceremony at ACU where I was to give the keynote address and be made a Doctor of the University. I had a bad patch with various illnesses in the second quarter of this year. So ACU had to postpone the actual ceremony which I think is going to take place later this year," he says.
The period of ill-health now over, he insists he is doing "fine."
Although unable to attend the ACU ceremony in May this year, he says he has been looking forward to the ceremony at Notre Dame where he also gave the keynote address.
"I did what I usually do in reply to the screed they read out about what a good fellow I am. This is say a few words and then read a few poems," says the man rated by the National Trust as one of Australia's 100 Living Treasures.
READ ON
HERE