Please join Regime Books to summon into reality this remarkable collection by WA poet Christopher Konrad. To be launched by Shane McCauley, with music by Ross Bolleter. A book of wilderness, poetry and redemption. From 6.30pm, Monday Sept 15, at New Edition Bookshop, 41 High Street (cnr Henry Street), Fremantle.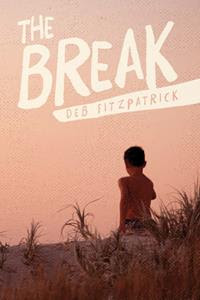 WA's south-west coast is the kind of place people escape to. Unless you have lived there all your life, in which case you long to get away.
Rosie and Cray chuck in their city jobs for Margaret River while Liza, Ferg and Sam have been there forever, working the family farm. Under pressure from developers the families unite against change. But when a natural disaster strikes, change is inevitable.
Join Fremantle Press to celebrate the launch of acclaimed children's author Deb Fitzpatrick's debut novel for adults.
The Break
will be launched Monday 1 September, 6pm for a 6.30pm start, at New Edition Bookshop, 41 High Street, Fremantle. RSVP
via email
.
The Gwen Harwood Poetry Prize
For an unpublished single poem or linked suite to 80 lines. First Prize: $2000 + publication in
Island
+ annual subscriptions to a range of literary journals. Second Prize: publication + annual subscriptions. 2014 judges are Sarah Holland-Batt, Gig Ryan, and Sarah Day. Entries close September 30. Entry fees $20/$15
Island
subscribers. For details click
here
.
Nailing Your Novel - Why Writers Abandon Books
This five-week course will teach you everything you need to know about starting, writing and finishing a novel. Join novelist Natasha Lester as she shares her secrets to writing an award-winning novel. Designed for those who've always wanted to write a novel but don't know where to begin, as well as those who've started only to give up because they're not sure where they're going. Five sessions, from 6:30-9:00pm, Thurs 30 Oct-Thurs 27 Nov, at UWA Claremont. Cost: $169. For details, click
here
.
Josephine Ulrick Literature & Poetry Prizes 2015
Among the richest poetry and short story prizes in the world, the Griffith University Josephine Ulrick prizes in 2015 are worth $30,000 in total prize money. The Literature Prize seeks short fiction to 2000 words, while the Poetry Prize calls for poems to 100 lines. Each offers a First Prize of $10,000, with $5000 for Second Prize. Entries open 1 Dec and close 13 Feb 2015. For details, click
here
.
Marathon Writing Competition
The Society of Women Writers WA is hosting another Marathon Writing Competition to help you ignite your creativity and prise raw ideas from the bedrock of your imagination. Mine a rich seam of plots, characters and narratives, to be cut and polished later into literary diamonds. Bring your favourite pens; notepaper supplied. There will be ten challenges of 25 min each, with the winner receiving a trophy and certificate. There are also prizes for second and third places. Cost is $20, inc. tea/coffee, and the Marathon is open to men and women. Sat 20 September, from 9.30am-4pm at the Citiplace Community Centre, Perth Railway Station Concourse. Book
via email
or ph. 0415 840 031. For information on the Society of Women Writers WA,
visit their website
.
Writing Books for Children and Young Adults
Writing for children and teenagers - it's easy, right? After all, if there's one thing we all were once, it's a kid. But just as eating ice-cream doesn't automatically make you a gelato expert, so too with children' s fiction. Many of us have great book ideas for children and teens, but simply aren't sure where to start. That's where the Australian Writers' Centre can help. Whether it's epic fantasy, comic adventure, romance or realism you want to write, this course covers all the essentials of writing fiction, with a specific focus on the most common questions about the dos and don'ts of writing for children and young adults. Weekend course at The Wembley Hotel, 18 & 19 October. Cost: $395. For details, click
here
.

Trove UWA Seeks Fiction and Poetry
Trove is the University of Western Australia's student-run online creative arts journal. They are currently seeking submissions as follows:
* Poetry on the theme of Memento Mori. Selected poems will receive $50 cash and will be displayed as part of the exhibition featuring the extraordinary video work Allegoria Sacra by the Russian collective AES+F, an evocation of Purgatory as an international airport. Submissions close 19 September.
* Poetry and fiction for an issue with the theme of "Ground". Submissions close 10 October.
Get creative. Get cracking. For details, click
here
.
for more information from writingWA, go to